Brakes: Flexible steel brake hoses » Selection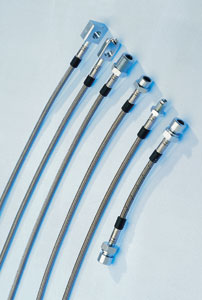 Flexible steel brake hoses for all cartypes - also for cars with ABS.

Compared to conventional brake lines - which get porous over the years - this special flexible steel brake hoses are made out of most high grade tube-material according to aeronautic-norm.
Covered with an extra flexible shell the brake lines cannot widen with compression - this protects from damage.

This are the advantages of the KERSCHER flexible steel brake lines:
protected against damage
exact action point
shorter braking distance
ertificated FMVSS 106

Safety first: most high grade special aluminium and press-cartouches of stainless steel get grouted with the power of 130 tons. This guarantees tensile strength of ca. 240 kp.

---

Car Selection: