RIMS:

THE KERSCHER UNIFIT-SYSTEM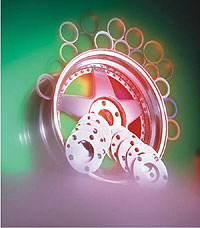 For years there actually haven't been too many changes on the wheel market. Besides, of course, all kinds of new designs. Certain wheels will only fit on certain vehicles; this is determined exclusively by the connecting dimensions of the vehicle.

We recognized this problem and developed a completely new mounting system: The Unifit-System. The wheel is mounted on the vehicle using a universal hole pattern together with a mounting flange specific to the particular vehicle.

---

The Unifit-System is suitable for all vehicle types using 4 or 5 hole mounting and a pitch circle from 98 to 120 mm.
The advantages of the system are very obvious:
The wheel can be used even after a change in vehicles. Only the mounting flanges need to be exchanged.
Even when there are no alloy wheels on the market for certain vehicle types they can still be outfitted with our wheels.
Optimum increases of ability to supply as well as merchandizing flexibility and associated increase in sales.
The Unifit-System is trademarked. All wheels are checked by the Technical Inspection Agency according to the list of designated vehicle usage.
Storage costs are minimized for merchants, because one wheel fits all vehicle types.
---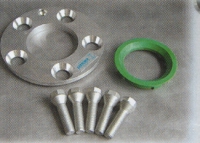 A Unifit mounting kit, which has to be ordered separately, must be used for installation of a wheel with the Unifit-System. Please indicate the exact type of your vehicle when ordering.

The kit for a wheel consists of the mounting flange, 4 or 5 wheel bolts or wheel nuts as well as a locating ring (except with BMW 5 hole mounting)

---
Unifit mounting kit

(PG 10)

4-Hole-Fixing with Screws incl. Centerring,
per Rim
30.70 EUR
5-Hole-Fixing with Screws incl. Centerring (exepted BMW),
per Rim
32.75 EUR
5-Hole-Fixing with Screws, only PCD 5/120 (BMW),
per Rim
29.25 EUR
4-Hole-Fixing with Nuts incl. Centerring,
per Rim
38.50 EUR
5-Hole-Fixing with Nuts incl. Centerring,
per Rim
41.50 EUR